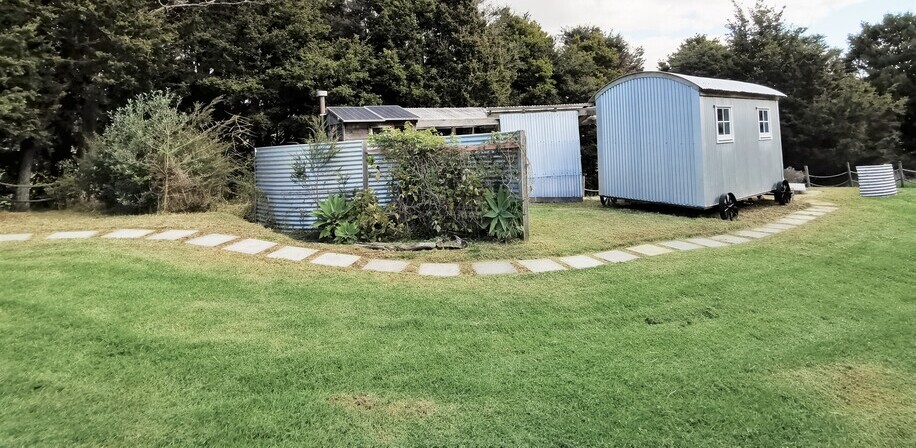 $200 per night, for a couple. $20 per person for a cooked meal.
Our first Glamping unit is the gorgeous Shepherd's Hut. Built on traditional lines, by a professional boat builder, the Shepherd's Hut is insulated and cosy. The stable style doors give you plenty of options for airflow, or just to lean and gaze at the view.
Enjoy the luxury of a lovely hot bath in the outdoors. The stars above, the warm water to relax in … aah. That's better.
Dinner and breakfast (to cook yourself) is part of the deal. All you need to do is tell us what you prefer – chicken, beef, fish or vegetarian. We can even do vegan. The area is provided with a barbecue for cooking or heating the delicious food we provide. Red wine, or white? The choice is yours. Happy little surprises are part of the experience. We can provide a picnic lunch hamper full of goodies. Please request when you book.
The bedlinen is pure cotton or cotton/linen and the mattress is comfortable. The faint scent of the macrocarpa wood the Shepherd's hut is constructed from is a pleasure to the nose. All tea and coffee provided is high quality, very aromatic and incredibly tasty.
The whole set up is off grid and totally eco-friendly. Hot water comes from a gas califont. All water is gravity fed from our big tanks.
To enjoy all this relaxation, all you need to do is book now. Please feel free to call should you have any queries.